Mission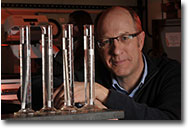 The mission of the CSM Faculty Academy is to prepare Academy Fellows to become leaders in the following elements of academic life: College-level teaching, University academic administration and Technical/Academic Research.
About
The Faculty Academy at the Colorado School of Mines (CSM) is a nine-month immersive program designed to transform new and experienced faculty members into effective academic leaders capable of advancing their home institutions in the areas of teaching, research, and administration. The program provides hands-on experience and learning opportunities tailored to the needs and interests of each Fellow in the program; networking and collaboration with other Fellows as well as mentoring from senior CSM faculty members are utilized supplement classroom sessions, shadowing opportunities, discussion groups, and field trip activities.
You can also download a descriptive brochure in PDF format. Download...
Further Information
For more information about the Faculty Academy, please contact:
Ronald L. Miller, Ph.D.
E-mail: rlmiller@mines.edu
Phone: 303.273.3892